S3T Sun Feb 26 - REAIM, Base, Convergence, Light EA, Prompt Engineers, Post-Stack Software, Nori Chips, Spring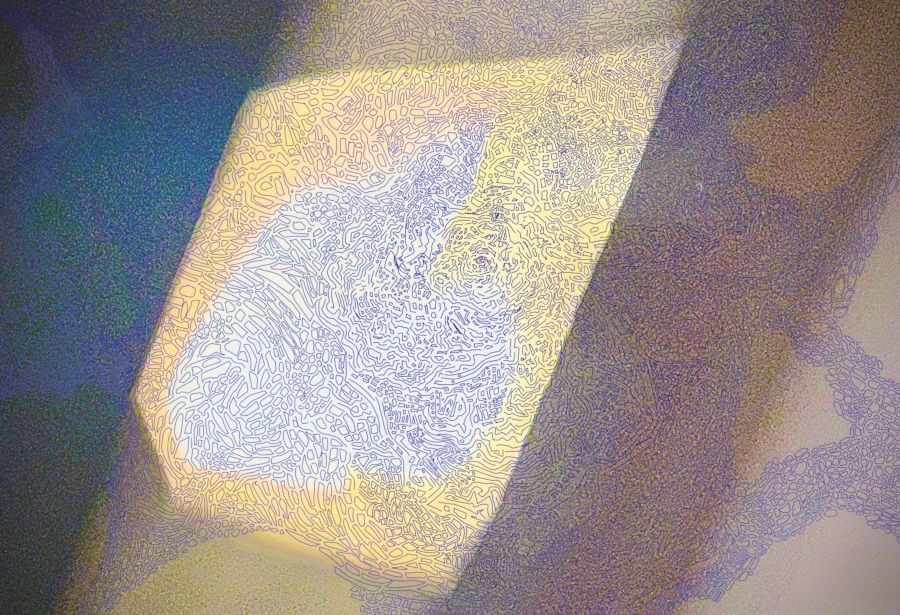 📈 📉 Macro / Headlines / Trends
Markets reacted negatively to hotter than expected inflation - again - as Wall St posts biggest drop of 2023 so far. 401Ks are down and the retirement gap (the $ that people have in their retirement accounts vs what they'll likely need) is growing.  
More in depth: Continue to track these and 500 other leading indicators at the S3T economic dashboard here.
The financial uncertainty stems not just from the Fed's fixation on incomplete inflation measures and its single lever of interest rates. The problem is broader. The traditional instrumentation used to track the economy is having trouble grepping the new reality where tech disruptions are introducing change at a much faster pace than then most indicators were developed. The implications of these changes are financial, political, environmental, global...and largely inscrutable.  Leaders around the world are scrambling to catch up.
Perfect Example: this past week 60 nations held the first AI warfare summit under the headline Responsible Artificial Intelligence in the Military Domain (REAIM), signing an agreement to prioritize responsible use of AI by military forces.  
To start to get a handle on what kind of new visibility and indicators are needed, it is important to understand the way emerging technologies are converging to reinforce and accelerate each other.  
---
Convergence Underway
As ARK Invest notes in this research piece, an increasing percentage of economic output will come from highly concentrated market sectors that leverage Public Blockchains, AI and a handful of other combinatorial technologies. Between now and 2030 these innovations are going to increasingly feed off of each other and converge.
💡
"ARK estimates that $13.4 trillion of market value is attributable to the disruptive technologies it covers today. By 2030 ARK estimates that market value attributable to these technologies will exceed $206 trillion."
This in turn will change 2 things for leaders in IT and VC:
How ventures and corporate projects manage risk in multi-party emerging tech initiatives. Expect the need to bring cross-disciplinary groups to the table ...they won't all be from large corporations or small ones either, and they won't fit neatly into the old IT - Business dichotomy.
How Architecture teams evolve and deliver lightweight Enterprise Architecture for emerging tech-driven cross-disciplinary teamwork and rapid execution. This will put new pressures on Architecture leaders to upskill Architecture teams - EAs, SAs as well as other speciality architects to match the expertise requirements of increasingly convergent tech and science innovations.  
Public Blockchains was the first innovation platform mentioned in the ARK piece above, and a new entrant - Base - may be poised to help drive convergence as well as some needed consolidation in the web3 / crypto space.
Base - a New Layer 2 Blockchain from Coinbase
Coinbase has launched a new Layer 2 Ethereum blockchain network for building decentralized apps. Coinbase says Base will serve as "a home for Coinbase's onchain products and an open ecosystem where anyone can build."
With Base, it feels to me like Coinbase is tearing a page out of Amazon's book: build infrastructure you need and then offer it to others (ie AWS).
While its too early to tell, I'm hopeful that Coinbase's critical mass might help the Base network achieve some standardization in Web3/Crypto: meaning adequate developer bench strength, user experience and value proposition as a solution platform.
Implications of Base for existing projects: standardization
A host of smart interesting projects like RNDR (distributed GPU rendering for 3d animation) and Audius (music ecosystem) continue to spring up, propelled by bright teams of people who understand the improved economics and value that Web3/Crypto can enable.
Unfortunately, the industry's developer talent is so splintered across so many different projects. The quality, user experience and sustainability of each is going to struggle until there is more standardization in platforms, methods and approaches.
Right now a lot of things are being built to MVP levels of quality and usability...minimum viable product ...emphasis on minimum. And they don't progress toward maturity at the speed they could / should.
Another example - DeSo - again, brilliant concept, but plagued with usability, quality and documentation gaps. One account I set up just disappeared, no amount of resetting, researching, or requesting support could help. There are features that work sometimes, other times not. No one seems to know where to find support documentation of any significance.
Implications for Investors/Stakeholders
If a critical mass player (like Base) does start to emerge and drive a standardization / consolidation in technology platforms, then the smaller existing projects may face an existential crossroads:  
Either get your tech stack to survivable scale with a talent bench capable of delivering and sustaining usable features and customer support operations  
OR rewrite your product on the new emerging standard.
If you want to get a sense of the players, their industry sectors and the relative sizes of their user bases, check DACS and DappRadar.
This might not be a perfect analogy but it feels a little like the hosting space before AWS became dominant. A plethora of large and small players were putting forward various flavors of on-prem / cloud / hybrid offerings - most of them not great - and none of them with strong tooling/components.
Today, for most CIOs/CTOs the huge playing field of the early 2000's has been narrowed down to effectively two options: AWS and Azure. Both - and particularly AWS - achieved a developer community, level of operational reliability and solution value that should be a benchmark for Base and any others who aspire to - as the Base press release says "bring the next billion users to Web3".
---
Possible Sea Change in US Healthcare
Humana announced this week it will exit its Employer Group business and focus on government-provided insurance going forward.
Will this become a trend?
While Humana is perhaps the first high-profile player to exit the Employer Group business, they certainly aren't the first ones to entertain the idea.
The Employer Group insurance has long been a tricky business, plagued by structural cost issues and misaligned incentives:
Providers unhappy with ACA/Medicare margins try to use employer group business to make up the difference, and play hardball accordingly when negotiating prices with insurers.
On the other side of the equation, employers have become increasingly desperate to lower costs, switching insurers and test-driving digital health plays in hopes of finding cost savings - with limited success.
As inflation and economic uncertainty imposes even more pressure on companies, it's not surprising to see Humana's exit.
---
🔎 Closer Examination: Will AI Disrupt the Software Tech Stack & Delivery?    
AI Prompt Engineers is a hot new job - for now. The role involves writing carefully scripted questions (prompts) that help ChatGPT (and similar AI tools) generate outputs that are useful or useful as starting points. (It's unclear how sustainable this job is).
Tom Demers has just created a guide for marketing professionals who want to experiment with using ChatGPT in their work. And some are using ChatGPT to write works of fiction and them selling them.
Implications
I think its important for IT leaders and tech founders to monitor how AI will change the way we build software solutions in the (near) future:
Instead of identifying requirements that get written into the layers of a technology stack, we may end up identifying prompts/intentions, uploading them into a console, and conducting a training process.
Once trained, the AI tool then listens for requests, much the same way traditional Web 2.0 web sites wait for self-service requests - but instead of elaborate website navigation and links, the AI tool lets you ask in simple terms for what you need.  
The AI tool would then respond by asking more questions, generating documents, agreements - and conceivably accepting legal signatures.
If this scenario turns out to be feasible at scale, then software delivery will compress/accelerate another order of magnitude. An AI tool capable of retaining context and walking people through a step by step processes could replace the huge piles of java and javascript code that run online banking, e-commerce and so many other self-service functions today.
Suggested Hands-On
For a brief tour of what this could look like, set up a Wordpress  website, and then add this plugin and play round with configuring and testing it (you'll need to set up a paid API account with OpenAI and a Pinecone connector). I've been testing this out, and the scenario I've outlined above is not a stretch.
---
🌏 Change Leadership: setting the right goals
And getting set up to successfully achieve them
Sometimes we set goals that don't stretch us. They don't require learning or development. Those aren't goals. They're just tasks.
We do this because deep down we're afraid that the goal we're setting might not be possible.
When we give in to this fear, we are short-changing ourselves. We're reducing the opportunity and growth that is possible for our lives. And in turn, reducing the impact and value we can deliver to our world, our customers, our family and friends and ourselves.
A drawing / thinking exercise
Our weekly S3T Podcast is now offering a special Change Leadership series that starts with Change on a personal level, then will look at driving change at team, organization and larger scale levels.
In this week's edition, we learn a drawing exercise that gets you into a mindset that helps you achieve challenging goals while enjoying the learning process along the way!
The right mindset helps you select the right kinds of goals and set yourself up to successfully achieve them.
---
🍱 Sensible Ideas
I am blessed to be part of a family that knows their way around the kitchen and the campfire. So each week I share what I call "sensible ideas" for good times and good food!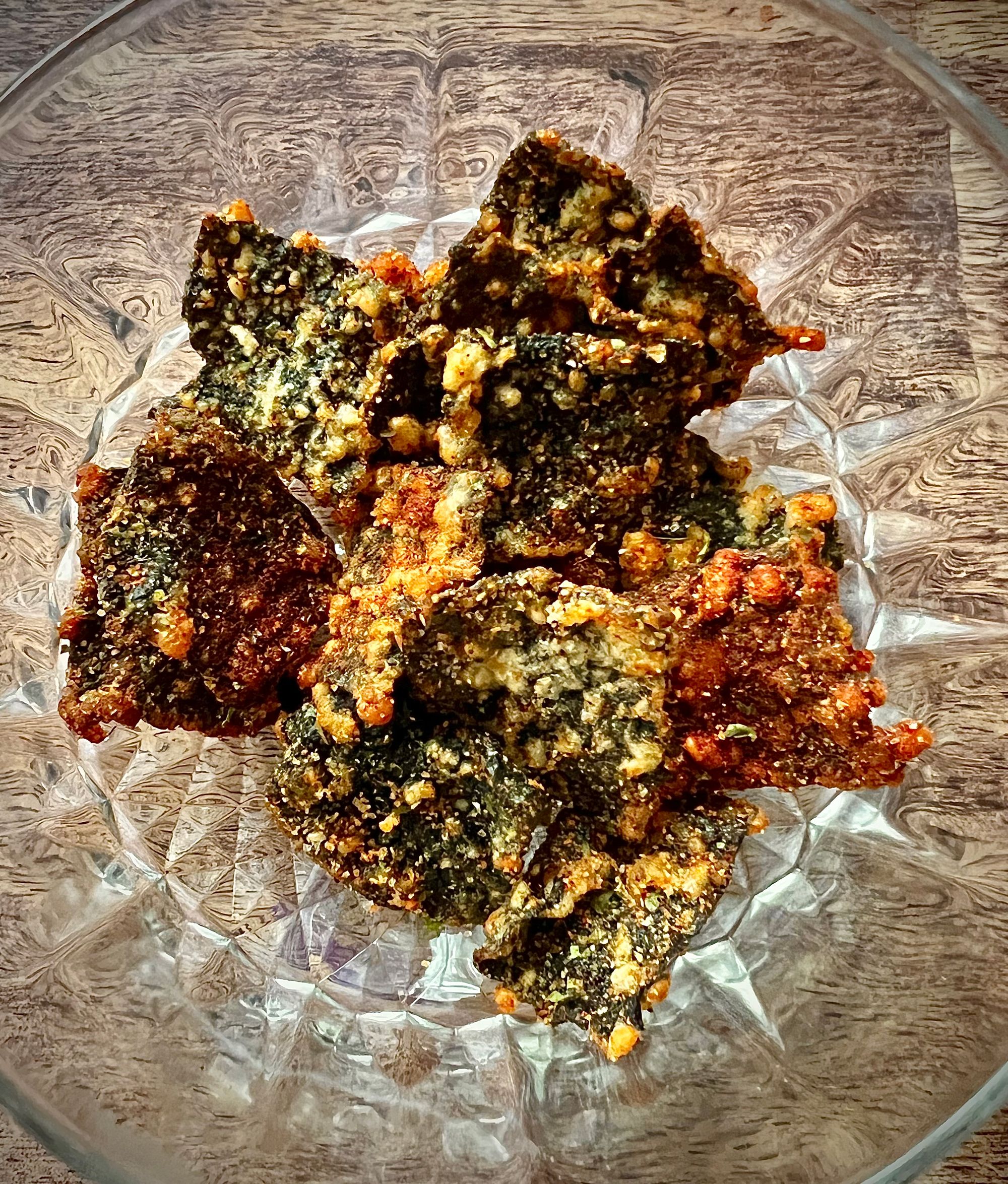 Fried Nori Chips
Nori is a flattened seaweed that is used to wrap Sushi and add flavor to many dishes. My son makes these life-changing Fried Nori Chips that are the perfect spicy snack for cold rainy day hikes, March Madness games, or Friday night movies. And they're fun to make.
Take a sheet of seaweed and cut it into squares. We prefer 1 1/2 inch squares...but try different sizes if you like.
2. Make a simple batter: Corn starch and water in a mixing bowl. Season with Paprika, Seven Spice, Curry Powder and Salt with a dash of hot sauce (your pick).  
3. Heat oil in a pan. When oil is hot, take a square of seaweed with tongs and dip it into the batter, then into the oil. Leave it in the oil until crispy, then remove and place on a wire rack to cool and let the oil drip off.
4. When you have a nice batch of them, add another layer of seasoning - this time with a pinch of brown sugar (where the magic happens lol).  
Enjoy them hot and fresh!  
---
🌄 Nature Notes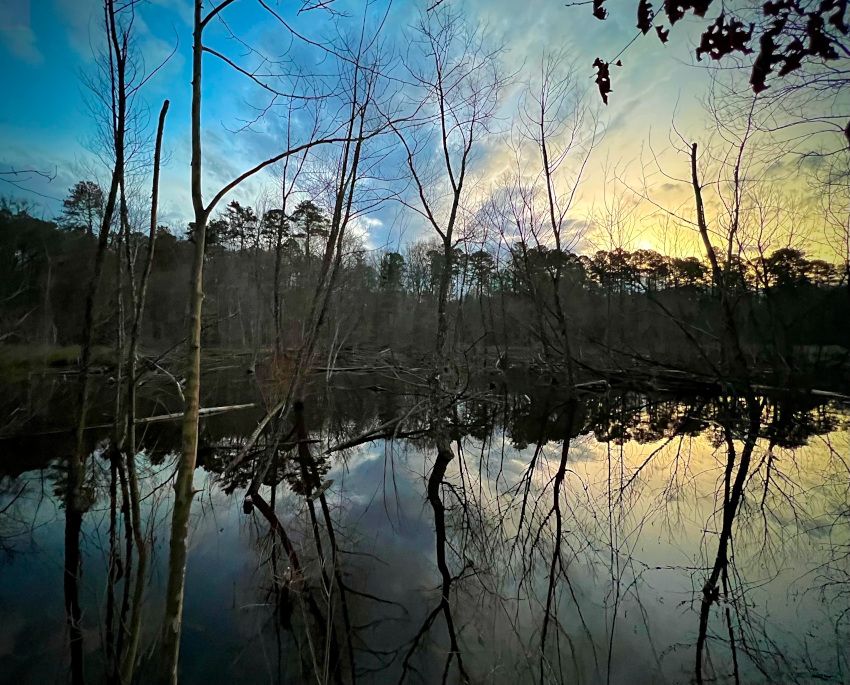 How to increase your appreciation of the treasures of the natural world, and nurture its capabilities.
An Evening in February
I took the photo above yesterday evening. It has been warmer the past two days, and the animals and plants around the marsh are restless for spring.  
Leopard frogs are calling from the water's edge, and Spring Peepers have started a tentative chorus. A Coopers Hawk flies up and lands on a branch.
Canada geese are pairing up and staking out their territory, noisily chasing away any others who dare intrude. One proud couple glided across the water in front of me, making golden ripples in the darkening waters. The sudden slap of a beaver's tail sprayed water on the geese and sent them squawking away. The beaver has been here all winter, and apparently isn't ready for new neighbors.
As the sun set, a Barred Owl asked "Who Cooks for You?" - twice. Two wood ducks raced through the trees toward their favorite bedtime spot on the far end of the marsh.

Overhead a restless Heron circled as if trying to figure out which of the tall pines she would roost in tonight. Looking up and watching her, I spotted the first bat of the year, wheeling and darting around the treetops, evidently finding plenty of moths and bugs to eat.  

The twilight disappeared, and the hound and I made our way back across the muddy meadow toward home, thinking of the warblers and other migrating birds tonight in forests hundreds or thousands of miles south of here, getting ready to head this way. No doubt - like the animals here - restless for spring.
---
💬 Final Note
Thanks again for reading and sharing. Hope you are all S3T for a successful week! Feel free to forward this to a friend and continue the conversation on the S3T Discord, Twitter or LinkedIn.
Also, visit ralphperrine.com/consulting if you'd like to learn about and sign up for one of the 3 kinds of leadership consulting engagements that I offer. Have a great week, and thank you again reading and learning about change leadership!
Thank you!
Ralph
---
Opinions mine. Not financial advice. I may hold assets discussed.