S3T Sun Apr 30 - India#1, Halo, Layer 2 blues, Africa, Crypto gets professional, AI coaches, High Island, French-Mex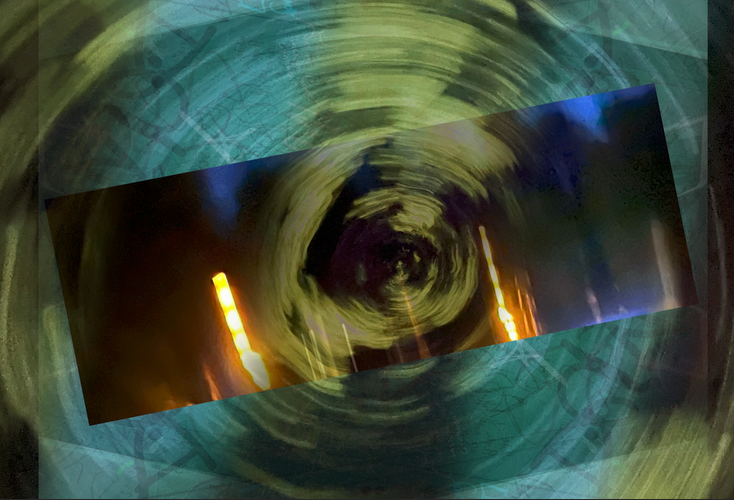 New Members: Welcome and thank you for joining! Move this email to your inbox so you never miss one.
S3T is a community devoted to learning the most critical professional skill of the 21st century: change leadership. Every Sunday we look at the big changes underway so we can proactively help our stakeholders plan for success.
🌏 Macro
Global Population Watch
India has just surpassed China as world's most populous nation. The latest UN dashboard here shows India at 1.428B vs China 1.425B. Some are watching (and rooting for) India's rise as an economic superpower rivaling China.
While India's GDP growth did outpace China's in 2022, the nation faces critical challenges:
📈 Economics
In the US, demand for commercial airliners and parts pushed durable goods orders up 3.2%. Elsewhere layoffs continue: the parent of Chrysler/Jeep will cut workers by 3500. Ford did similar cuts last month, and Amazon shuts down Halo, its health tracker device business - one more sign of the end of the digital health frenzy of the past 4 years.
Related: the Halo closure may impact CSA hopes to standardize in-home care devices (Amazon and Google were the only 2 big tech members - both have tapered their healthcare ambitions).  
As long-time S3T readers know, healthcare is mired in a financial model that can't work. The digital health space was exciting, but largely a diversion from solving the fundamental problem. Way too many startups got started and now they're consolidating, including bigger name projects. My hope is for more focus on fixing the real issue: giving healthcare's financial model a long overdue upgrade.
---
🔮 Emerging Tech
Uncertain Futures for Layer 2 Blockchains?
Polygon's (and other Layer 2 blockchains) future seems to be coming into question as Ethereum continues to strengthen its capabilities. The Polygon MATIC token price  - until recently one of the better performers - is down significantly.
To understand the issue, look at how the investor narrative is changing:
Previous investor narrative: "Ethereum is the Layer 1 blockchain, but needs Layer 2 blockchains to run on top of it in order to meet user needs." This narrative created a market for a host of Layer 2 contenders, including Solana, Polygon and many more.
Emerging investor narrative: "Ethereum's steady progress on solving its shortcomings is making Layer 2 chains unnecessary." This could set up a "holding the bag" crisis where investors rush to exit to minimize losses. Here is a good synopsis of the negative view of Polygon's prospects.
Reminder: narratives do not always equal truth.
It can be helpful to consider what relationships and barriers to change could enable a bright future for Polygon and other Layer 2s: what contractual arrangements and what actual technical work (and ops support) would have to migrate in order to move operations from Polygon to Ethereum. How hard would that be, and when would that happen?
Consider these relationships and the kinds of functionality they entail:
Crypto Trust & and Mistrust
Africa, once a hotbed of enthusiasm for crypto, is now experiencing disillusionment with crypto in the wake of the VC crunch (which is shutting down crypto startups), and of course the FTX mess.
The US has also been disillusioned with Crypto (as noted recently in S3T) but now shows signs of moving on, with strong new indicators of continued adoption of crypto-related technologies.  
Perhaps more significantly, as noted in the next section, financial services firms are offering tokenized money market funds.
Crypto and Money Markets
This week Franklin Templeton, the $1.4 Trillion investment firm, launched a Money Market fund that runs on the Polygon blockchain. This is the first U.S. registered mutual fund to run on blockchain technology. The firm said in its press release that it believes blockchain based systems provide operational efficiencies, better security, and faster transaction processing.
💡
"Extending the reach of the Franklin OnChain U.S. Government Money Fund to Polygon enables the Fund to be further compatible with the rest of the digital ecosystem, specifically through an Ethereum-based blockchain. This furthers our distribution reach through a Layer 2 (L2) blockchain that has a proven track record" - Roger Bayston, Head of Digital Assets at Franklin Templeton.
Ondo is also launching a new stablecoin-like token, OMMF, which will be backed by money market funds.
AI - Emphasis on the Artificial
Quick round-up of a few new developments in AI space - acknowledging that some of these may be AI in name only, and that "AI" seems to have become the new "2.0".  
90% of companies that are currently in the market for talent say they want workers with ChatGPT experience, according to a survey by Resumebuilder.com.
Finchat.io promises to be a ChatGPT for finance, trained on up-to-date financial reports and news releases. I tested it, it needs work. But watch for more entrants like this, trained on up-to-date content.
Walmart is using AI chatbots to negotiate with suppliers - and the suppliers prefer working with the chatbots! 😮
Apple's AI and Siri teams are working on an "AI-Powered Health Coach".
First the good: The infographic below (courtesy of bipartisanhealthpolicy.org) is just one example of a research theme that usually asserts these 2 points:
Our behaviors have a much bigger impact on health outcomes than medical treatments
But the healthcare industry is over focused on medical treatment and under focused on helping people actually change and manage their behaviors.
So I think it's right to focus on a coaching approach to help people improve their health.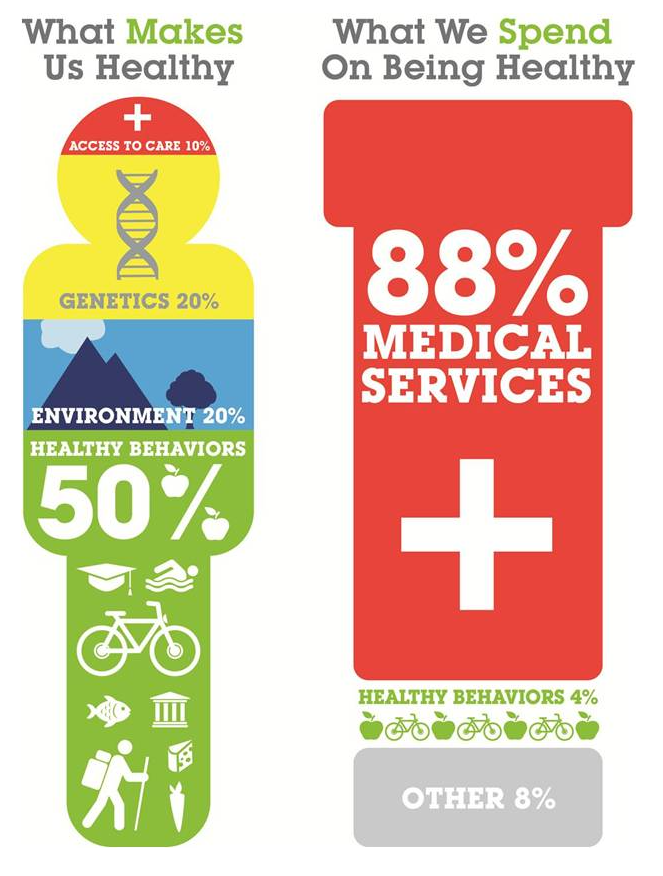 Now for the bad: I do think there's a serious risk in setting the expectation that a non-sentient device can somehow be a reliable coach. I'd be happy if Apple could just get Siri to stop interrupting conversations and movies with "I'm sorry I didn't get that." I think a set of devices that provide reminders and prompts can be effective. Getting from Siri's current abilities to a capable health coach sounds like a steep climb to me.  🙂
---
🐦 Nature Notes
High Island
My son and I had an amazing opportunity to visit High Island Texas, one of the most concentrated hotspots for spring migration. This tiny haven of trees in an otherwise treeless coastal plain is a rest stop for exhausted migrating birds who have just crossed 600 miles of ocean. The number and diversity of birds that come through this little spot in the spring is well, insane. High Island features several beautiful bird and nature sanctuaries with a variety of different habitats, well-maintained facilities and boardwalks.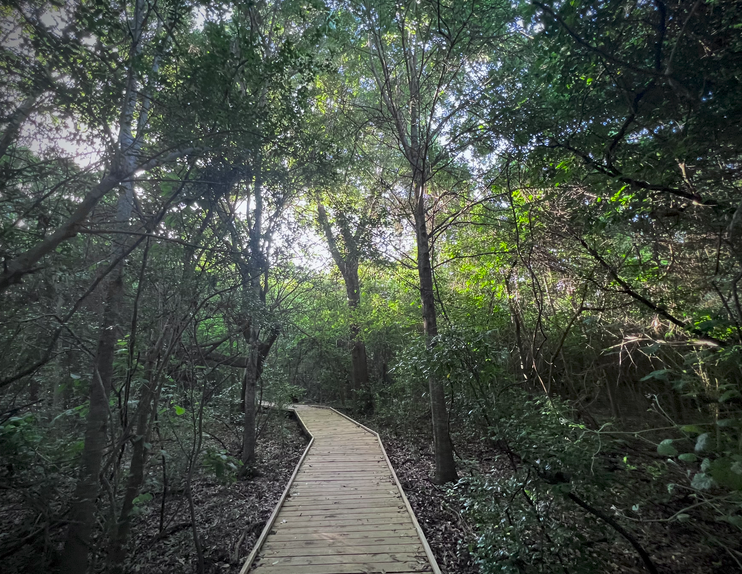 To illustrate just how concentrated the species can be, here are 3 photos all from 1 tree:
Yellow Warbler: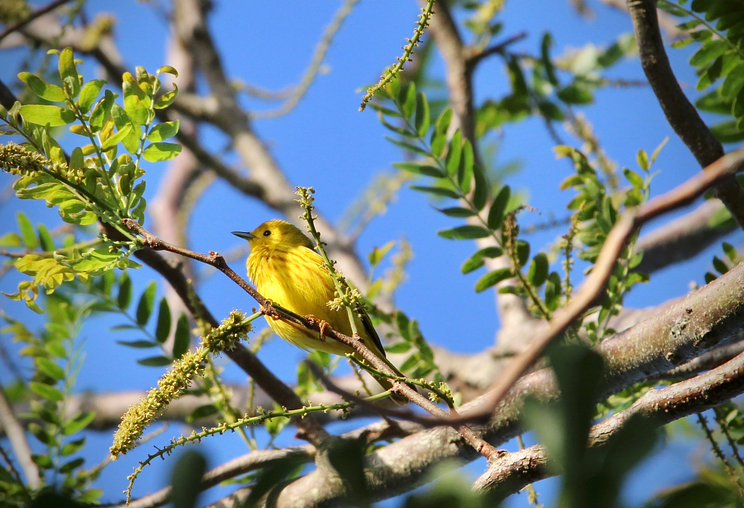 Black and White Warbler: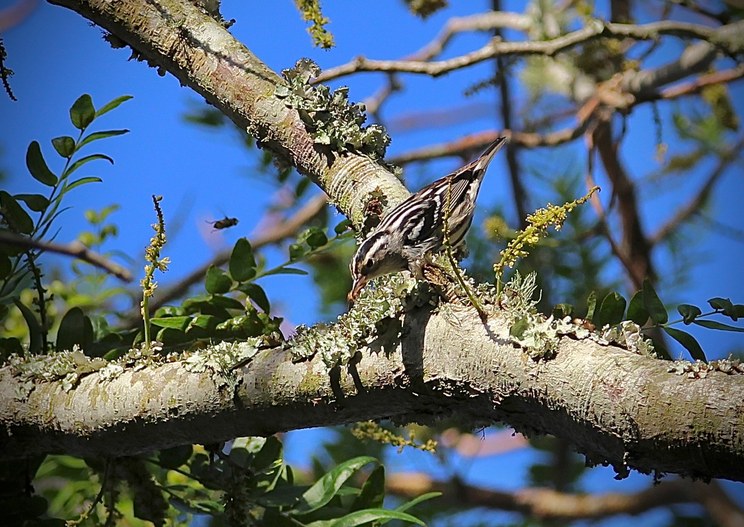 Bay Breasted Warbler: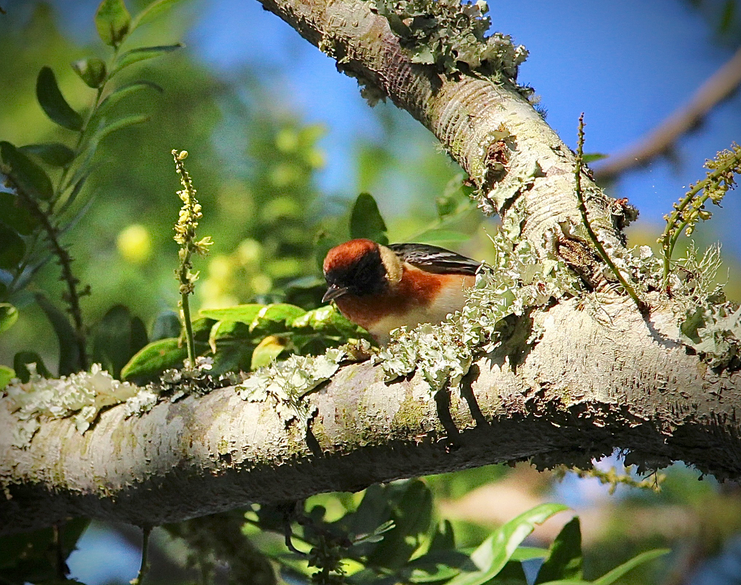 Notice that the last two photos are two different birds in the same fork of a tree branch. This is a good strategy in places like this: Find an unobstructed view with nice light, aim the camera at it, and just wait for birds to hop into view :)
This same tree also had Tanagers, Hooded Warblers, Tennesee Warblers, Blackburnian Warblers, Vireos and more.
High Island is one of the "landing points" where Migrating Birds stop to rest after crossing a large body of water. In this case the birds you're seeing here have traveled up from South America and Mexico, heading north to their summer breeding grounds throughout North America.  
Fort DeSoto Florida, is another similar resting spot where large concentrations of birds land after a long overwater flight.  
Planning a visit?: High Island is about an hour outside of Houston, TX. Mid-April to Mid-May seem to be great times to visit for spring migration.  
Tip: Buy this patch from the Houston Audubon society (it's beautiful) and it gives you annual access to all sanctuaries in the High Island area. Learn more and order your patch here.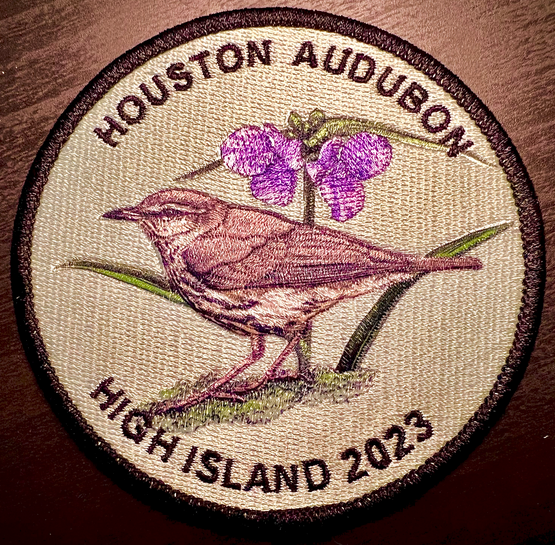 ---
🍤 Sensible Ideas
French-Mex Fusion gone Cajun
One fusion that has intrigued me the most is French-Mexican. It is not as well known as it should be, which is a little strange because French-Mex has been a thing for about 500 years.  The French were more influential in Mexico's history than many realize. In fact, at a few critical junctures, like the Pastry War, some expected Mexico to come under the rule of France rather than Spain. See this entertaining summary of the history of French influence in both Mexican history and Mexican food.
These 6 Mexican desserts showcase French influence.
The first known Mexican cookbook Nuevo Cocinero Mejicano,   featured a heavy emphasis on french cooking styles and recipes. Interesting history here, and you can buy an early edition here on Abebooks.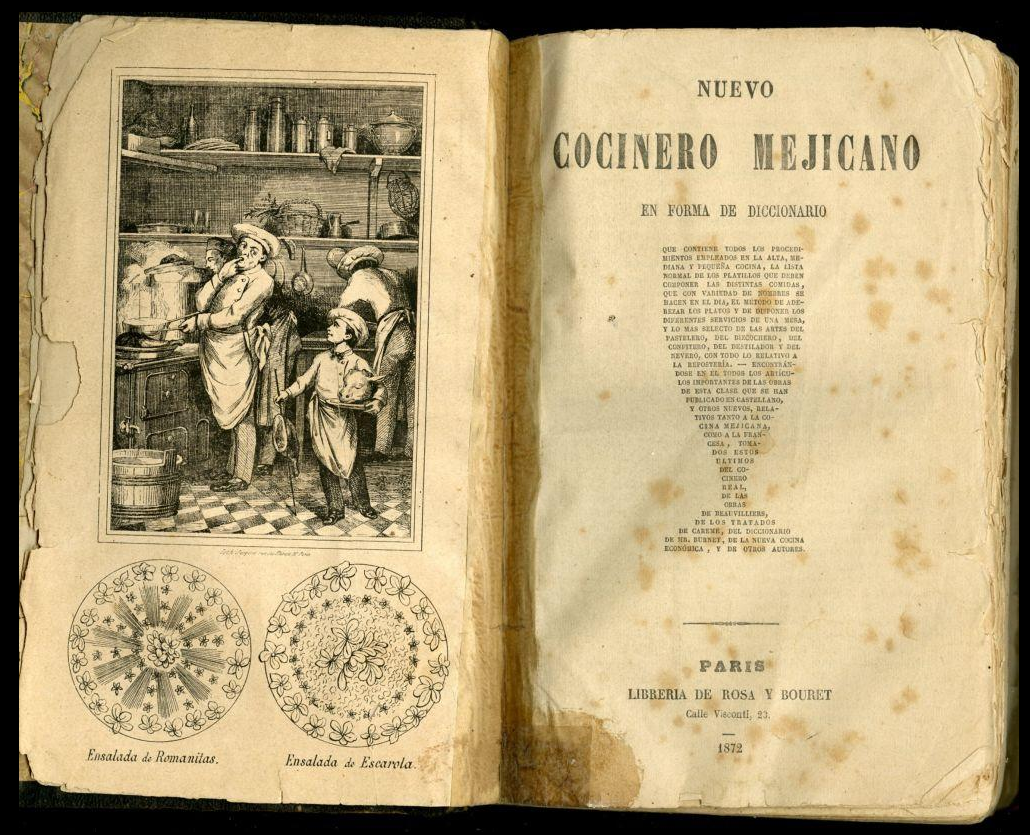 All this to say, we recently had the good fortune to have dinner (after a long day birding High Island) at Tia Juanita's a fun place that takes things a step further with yes, why not - Mexi-Cajun. If you are ever in the Houston TX area, you really need to make a pilgrimage to Tia Juanitas.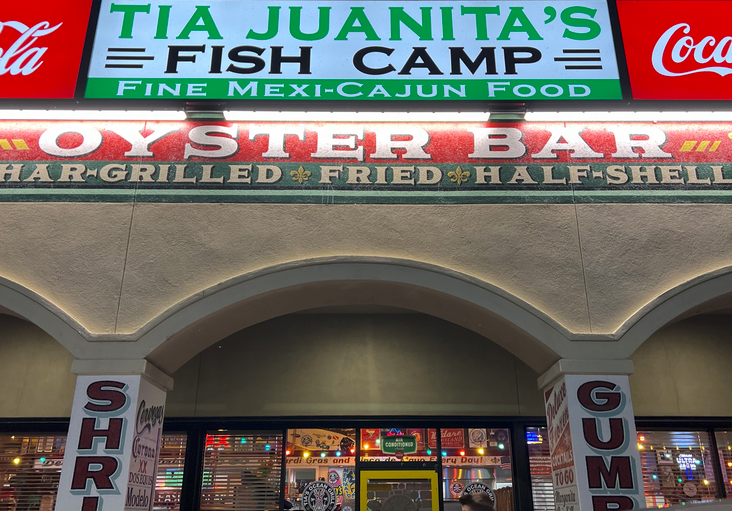 This place is an institution on an island ... a barrier island named the Bolivar Penisula. Unforgettable and delicious food.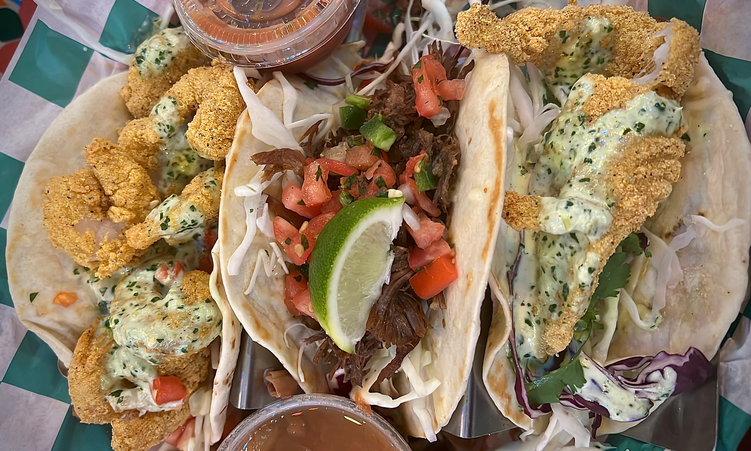 I had the tacos - crazy good.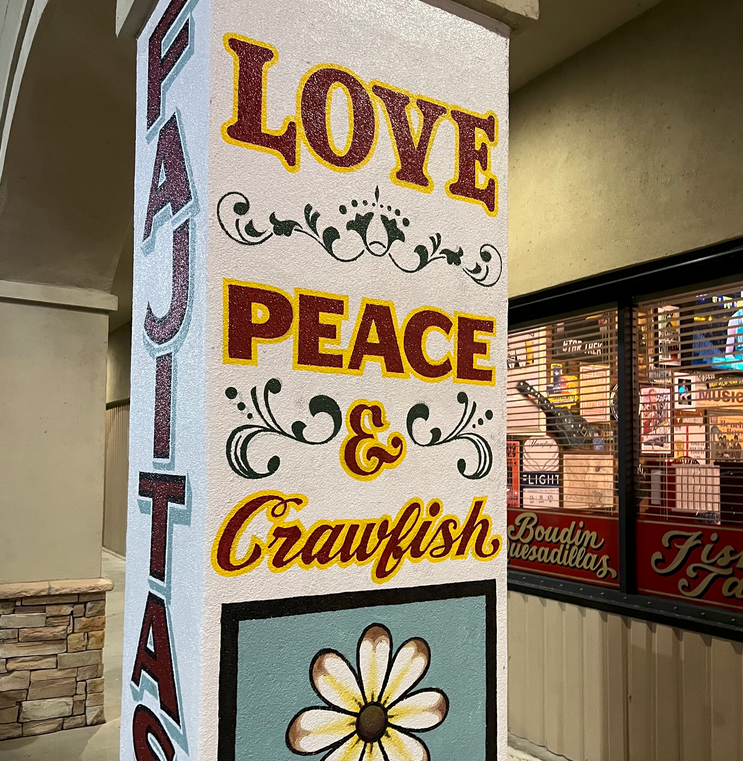 This seems like the right philosophy.
---
💬 Final Note: 3 Questions to get ready for the coming week
Take a few minutes to work through these ‌3 questions so you can make the most of the coming week!
What accomplishments are you most proud of this past week? Describe your successes and sense of achievement. What worked well? How can you continue to build those strengths in the coming week?
What were some of the biggest challenges you faced last week? What obstacles‌ did you face? ‌Any potential areas for improvement? Explore any setbacks and identify strategies for overcoming them in the coming week.
What actions will you take in the coming week to continue your progress toward your goals? Identify the actions, the time/dates when you will do them, and any resources you will need to complete these actions.
Taking a few minutes to ask and think about these questions can set you up for success, so by this time next week I hope you'll be celebrating the progress you made and what you achieved!
Thanks again for reading and sharing. Hope you are all S3T for a successful week! Feel free to forward this to a friend and continue the conversation on the S3T Discord, Twitter or LinkedIn.
Thank you!
Ralph
---
Opinions mine. Not financial advice. I may hold assets discussed.