S3T Aug 14 - Inflation, job weakness, ETHW, Chilaquiles, Madtoms...
Some economic indicators continue to improve, but are the improvements benefitting the entire economy, or just a smaller group of well positioned investors?
📈  Macro Headlines
Declining Inflation?
This week's Consumer Price Inflation (CPI) report showed a surprisingly moderated rate of inflation thanks to drops in several price categories including gas. Markets responded positively and BTC, ETH and others cryptos moved up sharply, but plenty of economic uncertainty lingers as this Kiplinger sentiment survey shows.  
State and City pension funds have been having "the worst year since 2009" due to disappointing performance in both stocks and bonds.  
NLW highlights data indicating that last week's jobs report is hiding some structural weakness in the job market: total jobs up, yes but full time jobs are down. This suggests more people are stitching together multiple jobs to make a living. Multiple part-time jobs, mind you, not the multiple full-time jobs of overemployed.com variety (Not sure this last category is large enough yet to drive any tangible difference?).
The NY Fed's latest Survey of Consumer Expectations - an important gauge of market and consumer sentiment - shows consumers now expect inflation to fall over the next 1,3, and 5 year time horizons. This is a sharp change from previous surveys.
Raoul Pal notes that long term prices for many commodities are now declining and expects inflation to fall over the next 18 months (long thread with charts below).
Issus to sort through...
As I've noted in previous editions of S3T the global economy is working through a lot of issues:
The perfect storm of pandemic, supply chain, war, culminating in a critical energy shortage.
The shift from globalization economic arrangements to regional economic arrangements and supply chains.
The shift from centralized tech platforms to decentralized tech platforms.
And it will take time for these things to play out and possibly resolve. See S3T June 12 discussion on Recession for a review of the factors in play. That said, there does seem to be momentum to the upside across July and so far in August.
Let's see if it continues. And perhaps more importantly, will this momentum to the upside have beneficial impacts across the broader economy or will it be limited to those who are well positioned?
Falling gas prices are connected to the release of strategic oil reserves vs any improvement in the supply economics. What happens when no further releases can be allowed? Will prices go back up and impact working families?
The Inflation Reduction Act heads to the White House this coming week with a number of provisions that might help deliver broader benefits for US communities. Here's hoping that these provisions can give enough safety net and help to those who need it during these unprecedented times.
---
🔎 Closer Examination
Ethereum Merge Resisters - opportunity?
A small group of detractors plan to fork Ethereum to a new version dubbed ETHW. Presumably W refers to the "Proof of Work" method that this forked version would continue to use while the main Ethereum ecosystem moves over to more eco-friendly Proof of Stake.
My 2c FWIW: While I do look for alternatives to Ethereum for diversification purposes, I don't view this particular play as a viable diversification option because the ETHW play feels grudge-based not business-based (here and here). Given the contentious history between Justin Sun and Vitaly Buterik, it is hard to imagine this ETHW building a viable following and usefulness to the world.
Yes, some longtime coins are still hanging in there - like Ethereum Classic for example. I tend to connect this to the fact that today's technologies make it easier for a smaller team to run a platform at relatively low cost and effort - especially if it is not carrying a complex operational workload. So persistence alone while admirable isn't on its own an indicator of long term value - in my thinking anyway.  
🌏 Change Leadership: Finding your problem to solve
Amid today's economic upheaval, tech revolutions and talent migration, many face a dizzying array of choices about how to use their time and talent. It leaves many feeling confused and uncertain about where to focus next. To make matters more difficult, our understanding of the world and its key problems continues to rapidly evolve, which means there are hundreds of new opportunities to innovate and bring good to the world.
So you may be be feeling like you need to rethink or refigure out what you want to do.
But...
What do you want to do? is not the right question, says Sarah Todd.
Why?  
Because there are lots of things you could be happy doing and you need something better than "happiness" to help narrow down your options.  
Instead Sarah advises that you ask yourself these 3 questions:
What can I do better than others?
What problems do I want to solve?
How do I want to be known?
Sarah Todd's excellent read here has additional tips on how to create a "qualities map" (qualities you want to grow and be known for) and how to forge a path that lets you stay true to your self and your goals.
---
🍱 Sensible Ideas
I am blessed to be part of a family that knows their way around the kitchen and the campfire. So each week I share what I call "sensible ideas" for good times and good food!
Chilaquiles
Chilaquiles are one of my favorite breakfast dishes - and I am ready for breakfasts of this sort pretty much any time of day. There are LOTS of variations (check out the menu of the Los Chilaquiles restaurant in Tijuana) but the basic recipe goes like this: Fried tortillas cut up in chip size shapes, smothered in salsa, cheese, sometimes meat of choice and topped with an egg or two.
Amigofoods shares a history of Chilaquiles and a recipe for Chilaquiles Rojos - Chilaquiles in red sauce. Below are two versions from my recent family get togethers.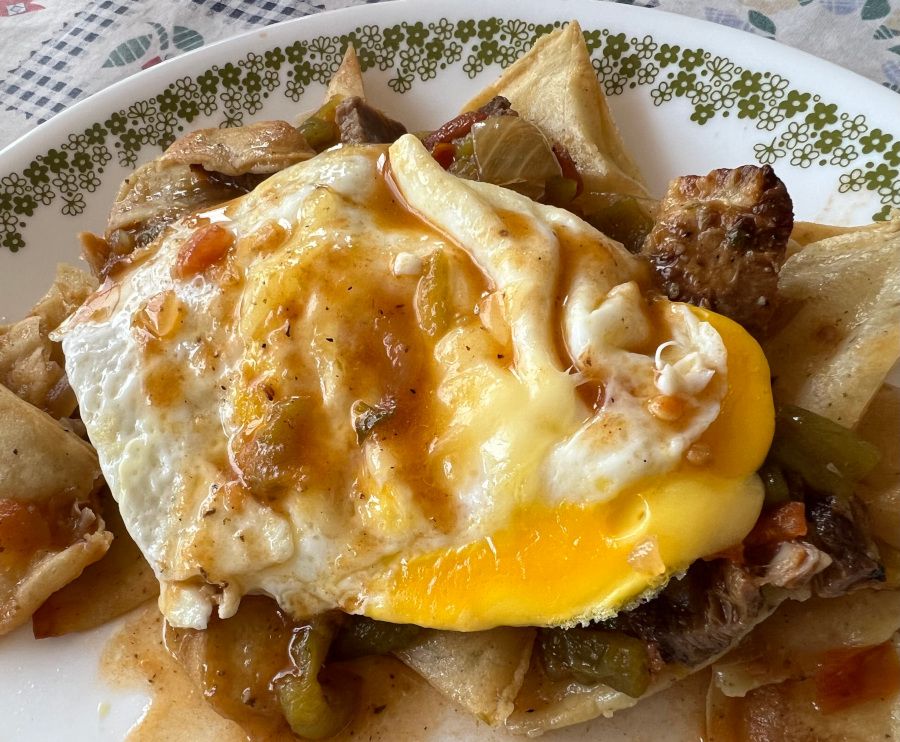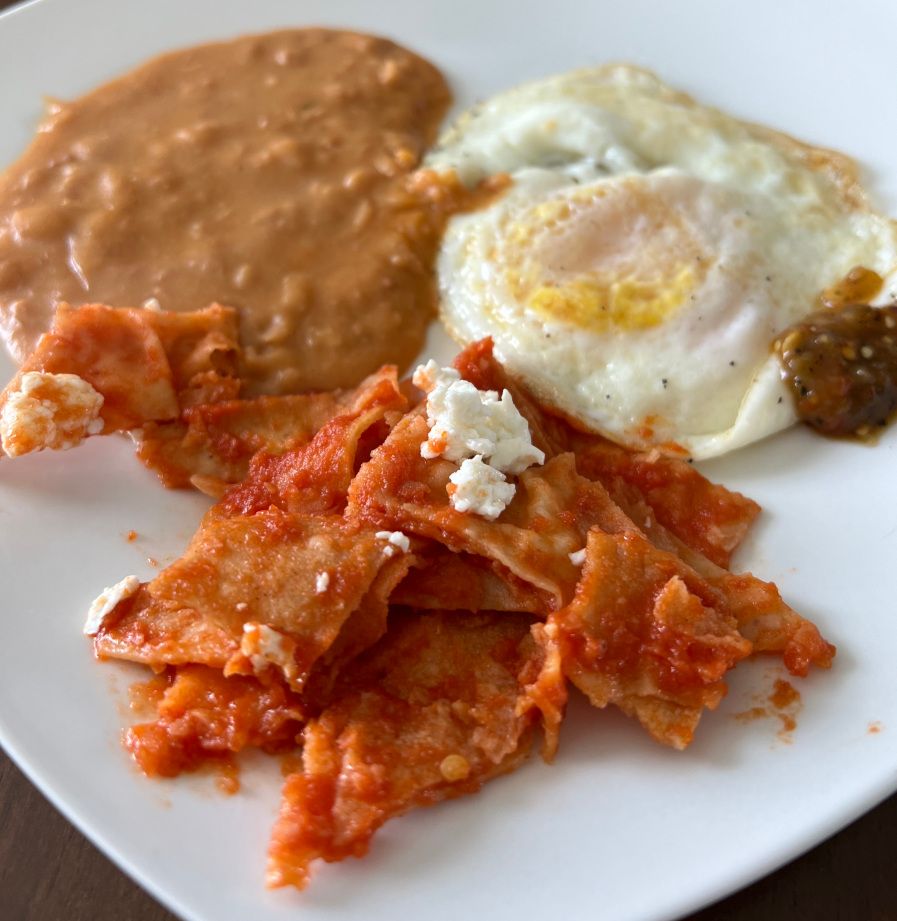 ---
🐟 Nature Notes
Carolina Madtoms
If Water levels in the Eno and other well preserved streams are low this can be a good time to see Carolina Madtoms, small endangered members of the catfish family.  They have a calico cat coloration which can help them blend in to the irregular shapes and shadows of a stream bottom, but makes them relatively easy to distinguish from other fish once you spot them.  
These fish are endemic to the Nuese and Tar river basins in North Carolina. "Endemic" means they live here and no where else in the world. "Basin" refers to a named river and all of the smaller streams and creeks that feed into it. I've seen Madtoms in the Eno River - which is part of the Nuese River Basin - when the water is low and clear.
💬 Final Note
If you haven't, take a minute to subscribe and get S3T delivered free to your inbox each Sunday morning. Feel free to forward this to a friend and continue the conversation on the S3T Discord, Twitter or LinkedIn. Thanks again for reading and sharing. Hope you are all S3T for a successful week!
Thank you!
Ralph
Opinions mine. Not financial advice. I may hold assets discussed.
Thanks to CopyPasteCharacter.com for the cool emoticons!