🍂️ S3T Sept 29 - BTC ETF, CBDC Surveillance Risk, CPU vs GPU, AI Raybans, Euro coin, How to cultivate an ownership mindset
🍁️
Its ok to forward this email
Share with someone you know will get value out of it. You're helping us grow and empower more individuals with skills for driving positive change.
If you received this email from a friend and want to join S3T,
click here to sign up for a free 14 day trial now
!
In this edition of S3T: Latest insights and need-to-know updates for change leaders:
Macroeconomics: The upside of a Bitcoin ETF vs. near-term bearish sentiment. A Euro-backed stablecoin is gaining ground.
Emerging Tech: Crypto Legislation, CBDC and Surveillance Risks: Digital Currencies and Human Rights
AI Tools: Meta AI product releases, CPU/GPU, ChatGPT web browsing is back, New AI Data Analysis tool to offer private cloud edition.
Nature Notes: S3T helping fund Stripe Climate initiatives, Birdcast lets you track of bird migration this fall.
For Paid Memberships: Gain an edge by kindling an ownership mindset in vendors and partners.
🔊 Listen to this edition on the S3T Podcast
Opinions expressed are those of the individuals and do not reflect the official positions of companies or organizations those individuals may be affiliated with. Not financial advice. Authors or guests may hold assets discussed.
---
Macroeconomics
Bitcoin ETF to attract $300B in 2024?
Mark Yusko of Morgan Creek Capital, a leading crypto hedge fund, anticipates that a Bitcoin ETF (likely BlackRock's application) will finally be approved by early 2024, and could attract an estimated $300 Billion in new investments in Bitcoin. Go here for an explanation of Exchange Traded Funds (ETFs). here for an explanation of Exchange Traded Funds
In the near term however, Bitcoin investors are watching for downward price movement as $3B in options are due to expire on September 29.
Euro Backed Stablecoin Expands its Availability
Euro Coin (EURC) the Euro-backed Stablecoin is now available on the Stellar network - its third network. The coin had already launched on Ethereum and Avalanche.
---
Emerging Tech
Bad Timing for Crypto Legislation
This week Congress considers whether or not to move forward with the Financial Innovation and Technology for the 21st Century Act, a long overdue framework for clarifying how cryptocurrencies will be regulated. The bill comes forward at a challenging time however, just when Congress's attention is divided across a number of issues including the prospect of a government shutdown.
The legislation faces vocal opposition from a notable set of entities (see this opposition letter and the list of organizations who signed it).
Look up the annual reports of these entities and you'll notice a significant number of large donations from banks. A few examples you can review:
Large dollar donors that show up repeatedly...ie are donating to multiple signers of the opposition letter: US Bank, PNC Bank, Bank of America, Mastercard.
It is telling that opposition to legislation that seeks a clear regulatory framework for new technology is being opposed by a set of incumbents.
Anti-Surveillance State Act
Meanwhile, another bill is advancing in Congress: The Anti-Surveillance State Act seeks to limit the federal government's ability to create digital currencies and issue them directly to citizens. Here's why the italicized phrase matters:
Digital currencies are run by software. If a digital currency is run by a government, this opens up a set of potential human rights issues.
The software enabling a digital currency can be used to gather information about every person using the currency, block or change purchases, make purchases without the person's consent and even deprive a person of their funds.
If the entity operating that software is a centralized government entity, then that government is suddenly in a position to know and interfere in a much more omnipresent/omnipotent way than any governments have been able to in the past.
Recommend contacting your elected officials to share your views on both of these crucial pieces of legislation.
---
AI Processing and Tools
AI: Shift from GPU to CPU?
Numenta's "Numenta Platform for Intelligent Computing" aka NuPIC is making waves with promises to allow a shift from GPUs to CPUs for AI processing. Note however, this is specific to AI inference (using a trained model to make predictions), not AI model training which continues to rely heavily on highly scalable GPUs. Here is an explainer detailing the use of CPUs for AI inference from the Intel perspective   (Intel is a collaborator with Numenta).
New AI Data Analysis Tool: TalktoData
Upload a spreadsheet - even a multi-tab spreadsheet - and TalktoData will help you analyze and create charts to illustrate key insights. TalktoData says they offer private cloud deployments for companies with sensitive data.
ChatGPT Gets Its Web Connection Back
Some of you may remember ChatGPT's short-lived ability to connect to the Internet, turned off due to paywall violations and other concerns. Well, a better-behaved web browsing capability has now been activated in ChatGPT and it no longer has the September 2021 knowledge cutoff!
LLama Has Been Busy
This week Meta released a slew of Llama 2-based AI capabilities including AI Rayban Smart Glasses, a new AI Assistant, photo editing capabilities, AI stickers for Instagram and more.  
---
Nature Notes
The Stripe Climate Initiative
If you are a paying member of S3T, a portion of your subscription goes to support a portfolio of 45 climate projects, including 14 early-stage carbon removal companies that plan to collectively remove more than a half a million tons of CO2 per year by 2026.

Click the link here to learn more: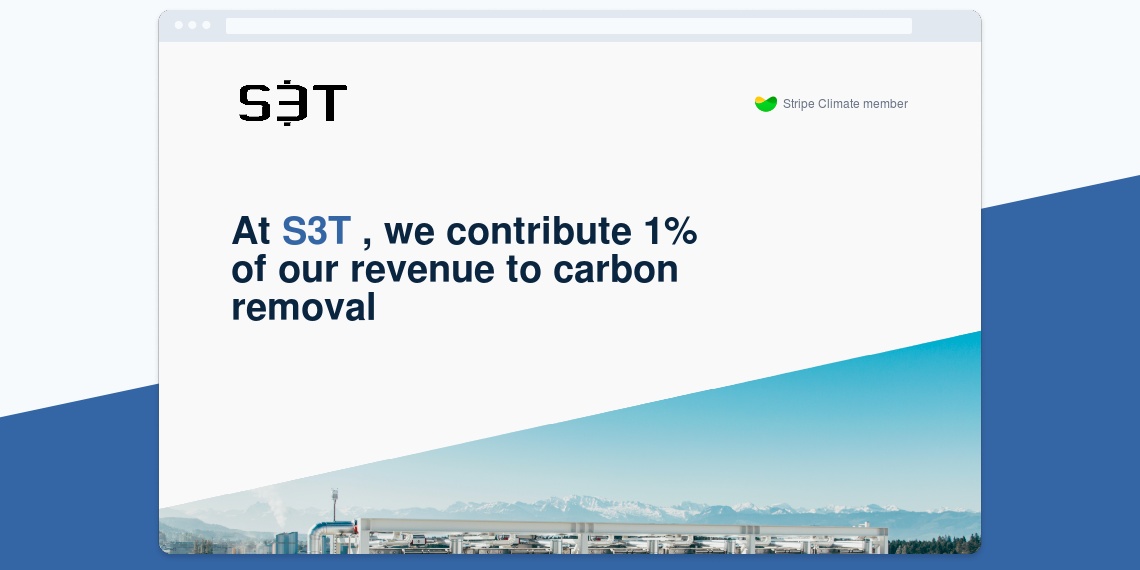 When you sign up as a paying subscriber you are fueling S3T's mission of empowering change leaders while also supporting critical climate initiatives that make a difference. A special thanks for paying members!
Birdcast for Fall Migration
The Birdcast team has once again started their annual coverage of Fall Migration, with nightly forecast maps showing how many birds will be migrating that evening. Many people know about bird migration, but what many don't realize is that most birds migrate at night.
Its amazing to think about: Each night during the spring and fall - while you and I are sleeping - hundreds of millions of birds of all sizes are flying over head on their annual migration. Follow this amazing phenomena at Birdcast.info.
---
For Paying Members: (Part 1 of a 3 part series on ownership mindset)
Change Leadership: Gain an edge by cultivating an ownership mindset in your vendors and partners.
In our last edition of S3T we noted the power of an ownership mindset - and specifically the way an ownership mindset improves our ability to fine-tune execution and delivery processes and achieve the required outcomes.
This week we build on that by answering the question: how do you share and cultivate an ownership mindset?
Here's what they didn't tell you
You'll need to cultivate an ownership mindset in multiple parties:
The team that reports to you.
The partners or vendors who don't report directly to you, but are obligated by contracts or other agreements.
The individuals or teams who don't report to you, and aren't bound by contractual agreements, but whose contributions are still critical to the outcome. These may be subject matter experts, academic partners, board members, or other stakeholders whose expertise or support is needed.
Cultivating an ownership mindset in all 3 of these groups is a bigger challenge than what is usually presented in leadership learning materials that talk about ownership mindset. These materials usually focus only on cultivating an ownership mindset in your direct reports.
So why would you want to go the extra mile and take on the added challenge of cultivating an ownership mindset in these other parties?
Here's why: if these other parties aren't equally aware and committed to owning their role in the outcome, their lack of ownership will have a negative impact on your team's morale and ultimately their ability to deliver. The entire initiative and its outcome will be diminished.
This week we will focus on how to cultivate an ownership mindset in your vendors and partners.
Why an ownership mindset matters in vendors and partners
It's logical to ask, why cultivate an ownership mindset in partners and vendors when you have a contract that tells them what they have to do? Unfortunately, a contract alone doesn't guarantee success. You can likely point to situations where vendors fulfilled the letter of the contract, but the end results were far from satisfactory.
When vendors and partners work and engage with an ownership mindset, they are more likely to:
Connect the dots and anticipate what is needed, vs. waiting to be told.
Notice issues and opportunities - they're more awake to what is going on, vs. going through the motions.
Take initiative, remove roadblocks and solve tough problems in a timely manner.  
Be relevant: likely to be focused on the right things at the right times.
They are also less likely to dump issues on others or ignore festering situations that increase risks and costs.
How to Cultivate an Ownership Mindset in your Vendors and Partners
It had been a long meeting. The vendors didn't understand why we were so adamant about certain provisions in our agreement. Our team couldn't understand why the vendors were hesitating. Finally, the painful meeting came to a close and no one felt like anything had been accomplished. By all indicators, we were at a stalemate. This wasn't going to work out. And it was a shame.
We let everyone off the call, and I asked the vendor if I could talk afterward for a few minutes.
I thanked them for being patient with us. I told them I was glad they were bringing fresh perspectives, and that I thought it was very important for us to find a way to work together. They'd be good for us.
But, I said to them, there's something you need to understand.
What's that, they wanted to know.
This post is for paying subscribers only