S3T Sept 11 - 9/11, El Grito, Euroflation, The Merge, India #5, Crypto n climate, French toast, Hawk migration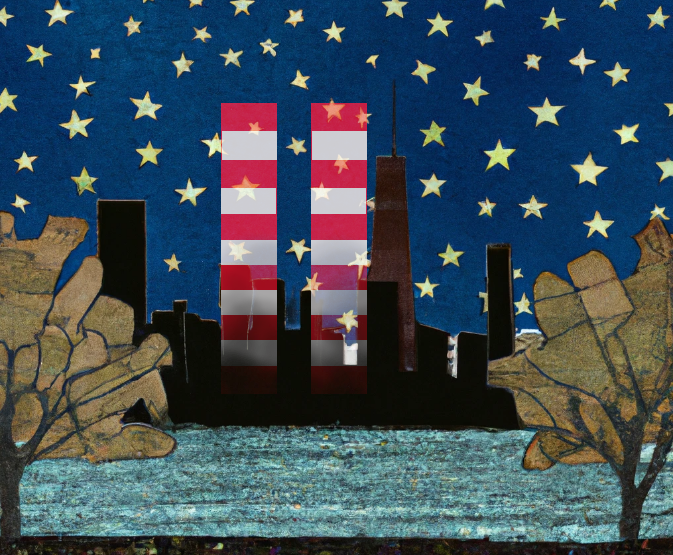 We look back on 9/11 from yet another new chapter of uncertainty and global change, thinking about our role and what good outcomes we can build in the role and time we've been given.
9/11 remembrance
21 years later, ceremonies in NY and elsewhere pay tribute to those who died in the September 11 attacks. The passing of Queen Elizabeth this week also recalled the memory of the her request to have the Star Spangled Banner played during the changing of the guard on that tragic day.
September 11, 2001 brought a severe impact to NY and the US economy (personal note: the startup I was with had to close), lasting changes to the function of Congress and triggered a $6 Trillion war on terror with continuing implications.
In this Atlantic piece, Tom McTague argues that America's place in the world - what we Americans tell ourselves about it and what others believe about it - might be more important that we realize.
---
September 16 - Mexico's Independence Day
This coming week Mexican's around the world will celebrate the anniversary of Mexico's independence. Chicago alone expects 500,000 to attend parades in the city this weekend (see also Madison, Philly, San Deigo, Houston. Technically the day marks the beginning of Mexico's struggle for freedom, when Father Miguel Hidalgo rang the bell on the Dolores church and made an impassioned speech remembered as the Cry of Dolores (El Grito de Dolores) about the need for independence (full history here).
Mexico is the second largest economy in Latin America and experienced GDP growth in the past 3 quarters (economic update here). Some observers see Mexico as well positioned to benefit from de-globalization and multi-polarization trends. More about these trends under the India segment below.
Macro
Europe starts fighting inflation - sort of
The European Central Bank (ECB) made an unprecedented interest rate hike this week, but also moved to permit excess market liquidity and pay European banks higher interest rates on that liquidity - a move that complicates the attempt to tame inflation. Debate about what to do next is planned for October but the ECB acknowledges there is only so much they can do given the energy crisis.
India moves ahead
As the UK mourns the passing of Queen Elizabeth, former colony India surpasses Britain as the worlds 5th largest economy. India is on track to soon exceed China as the world's most populous nation, and has enjoyed relative economic security in 2022 compared to most nations, in part due to less dependence on exports, and its willingness to defy the West in buying discounted Russian oil. What to watch:
Uncertainty in the US
American equity fund managers are holding more cash, and crypto investments hit a 15 month low. On the bright side(?) the Crypto Fear/Greed Index moved from "Extreme Fear" to "Fear" presumably due to BTC's quick recovery from a dip into the mid-18,000s earlier this week.
A looming rail strike (expected around Sept 16) could cause serious economic damage from cost spikes and supply chain chaos. Incidentally, the workplace culture of these transportation companies raises serious concerns: workers complain of understaffing and not being able to take time off for doctor's appointments.
Treasury Secretary Yellen says inflation is still a threat to the US economy. Bank of America and others have revised their original forecast of recession by end of 2022, now calling for 1.6% growth but a possible recession next year. And house prices are falling.  
Economic uncertainty impacts consumer psychology
Little wonder that prequels are becoming the binge-watch of choice: as James Poniewozik notes in his review of the current prequel-mania, "the horizon is full of question marks...with a prequel you know - at least in broad strokes - what's coming."
Crypto
What the Merge Means
The Merge - the Ethereum blockchain network's biggest upgrade - is underway. The move will convert Ethereum from energy intensive Proof of Work to Proof of Stake mechanism that will reduce its power consumption by more than 90%. The upgrade actions are expected to complete around September 15. What to know:
Why the Merge matters to Ethereum users and investors:
Implications for Bitcoin and Ethereum Competitors
As noted in previous editions of S3T, Ethereum's shift to lower energy consumption may attract investors and users who previously would have preferred Bitcoin.
This week the White House released its report on Crypto Assets and Climate (PDF) which strongly encourages use of low / green energy for crypto infrastructure, and gives a not too subtle indicator that if the industry can't set itself on the right course, then executive orders and legislation will be considered.
But another potential issue beyond energy efficiency looms for the future of Bitcoin as noted in this long interview: the security of the Bitcoin network especially once all 21m bitcoins have been mined (See callout below).
To be clear, none of this in my view establishes Ethereum's as a replacement for Bitcoin or other Layer 1 and Layer 2 blockchains (Think Cardano, Cosmos, Solana etc). Each have interesting buildouts and projects underway:
One current exception: Cardano is in a price slump, is now positioning itself as a hedge against something going wrong with Ethereum during the Merge.
But for many investors the Merge, and Ethereum's overall roadmap does establish Ethereum as one of the top picks for a diversified portfolio, and one that deserves heavier weighting. (Caveats: do your own research, consult with a qualified investment advisor, and never invest what you cannot afford to lose entirely.)  
---
🍱 Sensible Ideas
I am blessed to be part of a family that knows their way around the kitchen and the campfire. So each week I share what I call "sensible ideas" for good times and good food!
The Rich (and Debated) History of French Toast
Which of the following 2 origin stories do you like the best:
The latter point suggests that french toast isn't french at all. There are quite a few historical variations of what we call french toast, each with their own great flavors and stories.
Our favorite breakfast joint at the beach (sadly no longer in business) had a wonderful "Malted French Toast" on the menu.
Patty Catalano takes it to the next level with a French Toast Casserole.
---
🌄 Nature Notes
Hawk Migration
Each fall, thousands of birds of prey migrate south for the winter. Over time avid bird watchers have located great points - usually along scenic mountain ridges - where you can watch dozens or even hundreds of these majestic birds pass by on their migration journey.
Check out these guides to best observation points:
If you are in the area, the New Hope Audubon Society has a hawk migration trip to Mahogany Rock off the Blue Ridge Parkway Sept 23-25. Check here for full details.
---
💬 Final Note
I wonder if you remember where you were when you heard about the twin towers. I was getting ready for work early Sept 11, 2001 in Hawaii, when a friend called and said that a plane had crashed into a building in NY, and they thought it might be a terrorist attack. We turned on the TV and caught up with what had been unfolding that morning on the other side of the nation. I worked on the 22nd floor of a building near the waterfront of downtown Honolulu, but figured it would be innappropriate to stay home and just went on into work. I remember for some time after that how quiet it was in the islands with no air traffic. We didn't travel off island until the summer of 2002 - the unforgettable roadtrip my wife and I made through Arizona. Years later in 2016, my Mom passed away on September 11, making this a day for somber reflection on multiple levels for me.
I think the best response to all of this is gratefulness for the time and opportunity to see what good we can do with the talents and tools given to us. Thank you for what you are doing: it means something to someone who may never be able to thank you.
Thanks again for reading and sharing. Hope you are all S3T for a successful week!
If you haven't, take a minute to subscribe and get S3T delivered free to your inbox each Sunday morning. Feel free to forward this to a friend and continue the conversation on the S3T Discord, Twitter or LinkedIn.
Thank you!
Ralph
---
Opinions mine. Not financial advice. I may hold assets discussed.
Graphics generated with Dall-E were reviewed and edited by the me, the person who takes ultimate responsibility for publication content and compliance with OpenAI terms of use.
Thanks to CopyPasteCharacter.com for the cool emoticons!