🔊 Listen to this Newsletter on the S3T Podcast.
Background
We have progressed through a three-part course on change leadership skills,
Part 1: Change at the Individual Level: Skills that increase your personal effectiveness and readiness to lead change,
Part 2: Change at the Organizational Level: Change leadership skills needed to drive change at team or organization levels.
Part 3: Change at the Macro Level: driving a large-scale change that will have an impact at an industry or national level.
Today we're focusing on a macro-level change leadership skill that is vital for anyone who wants to help drive change at the industry or national level: building and maintaining effective coalitions.
Large-scale changes usually cannot be achieved by a single person or group. They usually require the combined resources and support of a coalition of multiple groups.
Introduction
If you ever marched or attended a rally, played a role in a community project, or worked at a non-profit, you more than likely were part of a coalition.  At some point in your change leadership journey, you will likely need to be part of an effort to design, build and sustain a coalition.
Coalitions can serve a variety of purposes:
Drive industry-wide adoption of new technologies or data standards
Improve population health and financial stability
Establish better policies and laws
Intervene and resolve critical community issues
Address threats to environmental resources and capabilities
Achieve education and career readiness objectives
There is a rich diversity of information about building and operating coalitions, reflecting the many different forms that coalitions can take. They can be large or small, formal or informal, simple or complex. When crafted and managed appropriately they can be highly effective.
So to help you on your journey, I've researched real-world coalitions and curated some of the best examples and guides that are most likely to offer value for your work. I looked for coalitions with track records of success, and clear actionable lessons for other coalition builders. Let's set the stage by making sure we're clear about the key benefits that coalitions provide. They fall into two categories as described in the next section.  
Benefits of Coalitions
Coalitions Multiply Resources and Impact
Coalitions have accomplished amazing things that no single entity could have done single-handedly. Coalitions enable a set of benefits that help a set of teams or organizations multiply their impact:  
Share insights, lessons learned, reduce trial and error
Amplify key messages and gain visibility
Pool your capabilities and reduce duplicative work or competition for scarce resources.
Increase your reach and range of options
Coalitions create connections that help overcome resistance
When coalitions establish direct connections with multiple stakeholders, it reduces the likelihood of being blocked by an opposing group. This can benefit coalitions large or small. Here is a simple example from a frequent pattern in initiatives that introduce new technologies or processes:
A team implementing a newer, more cost-effective capability runs into opposition from a group claiming that the new capability won't comply with the required standards.
The opposing group's underlying concern had nothing to do with standards: they feared being displaced by the new capability.
Because the implementation team was already working directly with the standards-setting entity, the resistance proved ineffective.
There is a related point here: connect directly with the responsible owners of a function, and do not allow yourself (or your team) to be disintermediated from them by another party claiming to speak on their behalf. This is a deeper topic, but worth mentioning here.
A Remarkable Case Study: Omaha 360
Omaha has significantly reduced gun violence, homicides, and police complaints thanks to Omaha 360 a collaborative effort that brings local government and community stakeholders together on a regular basis to listen, share updates, and decide what issues to focus on in the next 7-10 days. This profile shares an overview of the working processes, and this Omaha 360 web page has contact information.
Boston, Kansas City other others are launching efforts based on the Omaha 360 model. Their approach reminds me of Agile "Stand-Up meetings" where a software team comes together to share progress and set the focus for the next sprint or time period. This same practice is useful for coordinating the day-to-day work of coalitions.
How to make coalitions effective
Here is a curated set of best practices drawn from the top resources and guides for building and sustaining real-world coalitions that effectively lead change.
Have a clear goal for the coalition
Be clear about what the coalition will accomplish. Gemma Mortensen of Crisis Action recommends developing a simple "theory of change" in the form of an x+y=z equation.  
Mortensen shared a specific example from her work in the Central African Republic: Crisis Action formed a coalition with community faith leaders to gather evidence of genocide risk in order to get the attention of the UN. The equation in this case was:
evidence + media attention = getting on the agenda of a key UN meeting
Structuring the goal in a simple manner can help all participants have a clear understanding of the goal and their role in achieving the goal. Remember, coalitions are often comprised of very different groups, with different levels or types of educational backgrounds, cultures, and communication styles. Clear simple communication increases unity and impact.
Create win-wins
Partners in a coalition are more likely to achieve their goals if they can find ways to complement and support each other, instead of imposing on or competing with each other. The Prevention Institute shared an example of how two coalition members found ways to amplify the coalition message without creating duplicative or conflicting communication efforts:

"IPC did not publish a newsletter because doing so might reduce the subscriptions to the newsletter of the Safe Toys Association. Instead, IPC members wrote a monthly column in the Safe Toys newsletter and encouraged people interested in the IPC to subscribe"
Communicate the key objectives and results
In today's world of negative headlines, people yearn to see something get better. Some kind of positive outcome. This is critical to building and sustaining momentum in a coalition. In addition, people who are devoting time to a coalition need to know the status: how are we doing? Are we making progress? Is there something to celebrate? or something to put more effort into?
One of my favorite examples of sharing status and results is Impact Tulsa's Data Dashboard. The dashboard does two important things:
Defines the metrics and goals everyone is working toward
Shows in a data-driven way their progress toward those goals.
As shown below, the dashboard shares continuously updated indicators on how the Coalition partners are improving what they call the "Cradle to Career Outcomes" of the Tulsa Region.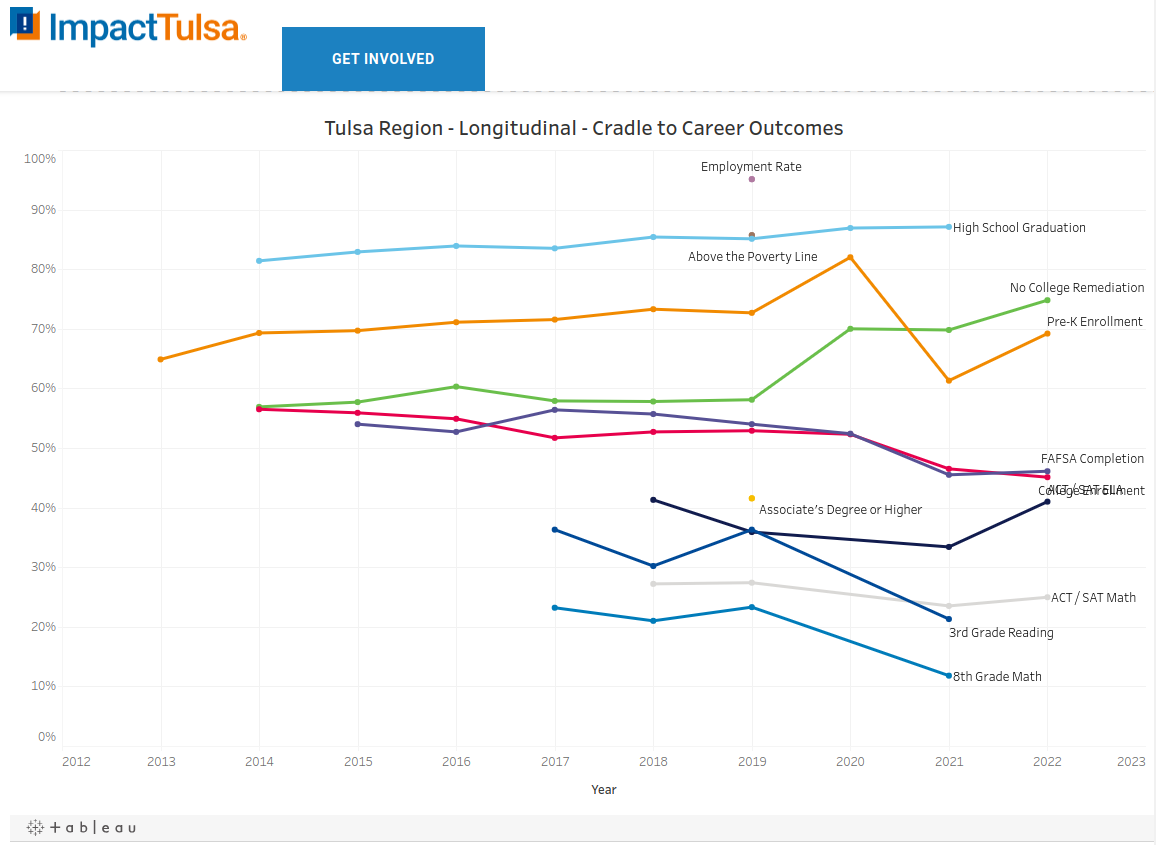 Write a playbook that helps you sustain and navigate change
The nonprofit organization Rails to Trails has published a particularly well-crafted Coalition building playbook that includes a section titled "Sustaining a Coalition." The playbook gives the entire coalition guidance on how to do things to ensure success.
Coalitions have to last through economic and political cycles as well as the changes that come through the different stages of the endeavor. As a coalition grows in scale and new participants join, a playbook helps ensure consistent operations and helps new participants get up to speed and participate effectively.
Summary
You've just gained some new actionable insight on how to drive change at a large scale. In your journey to create meaningful impact, sooner or later you'll encounter a scenario that requires a coalition. Coalitions can help teams and organizations multiply their influence, drive needed changes and leave a lasting impact on communities and the world.
I want to thank you again for the work you are doing and for taking the time to learn how to enhance your change leadership skills and knowledge. Think about a change you want to lead and ask yourself, what kind of coalition could I start building to help me drive that change?
Have a great weekend!
PS. I've included below a list of resources for digging deeper and learning more.
---
References and Recommended Reading
Mapping out the characteristics of opposing groups in order to find common ground: Networks of Collective Action by Edward Laumann and Franz Pappi. Academic Press 1976. This book shares the results of an in-depth study of influence structures and decision-making in a West German town. The researchers distilled their real-world observations into a number of highly valuable insights, including a drawing method (see chapters 7-8) that maps different community members out on a circular chart marked with "fault lines" denoting the opposition of different groups over individual issues. Groups that were more connected and influential were placed near the center of the circle while groups that were more isolated and less influential were out near the edge. The drawings were instrumental in identifying ways to build consensus and gain agreement on key issues.
For high stakes high-risk scenarios: 10 Things You Need to Build Clever Coalitions - Standford Social Innovation Review by Gemma Mortensen 2017. Key lessons from international work protecting civilians caught in war zones.
Building coalitions to meet community health goals: A Coalition Building Primer (PDF) by the Oak Ridge Institute for Science and Education. An in-depth guide for building coalitions to achieve health outcomes goals at a state level.
Preventing Coalition Failure and Maximizing Success: Developing Effective Coalitions: An Eight Step Guide (PDF) by Larry Cohen, Nancy Baer, Pam Satterwhite 2002. The authors start with a keen awareness of what makes so many coalitions underperform (trust issues, turf wars, and more) and provide recommended approaches to ensure effectiveness. Focuses specifically on community prevention, but is applicable to a broader range of coalitions.
Best Playbook for Building and Sustaining a Coalition: Rails to Trails Coalition Building Playbook - probably the most thorough and polished coalition-building guide I've seen so far. Focused on building coalitions that navigate and overcome the myriad challenges associated with building networks of trails on unused railroad beds. If you have limited time, check out the section on Sustaining a Coalition.