🌐 S3T Nov 17, 2023 - US Debt, Swash, Cars & Snacks, AI funding drops, Crypto is hiring, CBOE, Overcoming near-term bias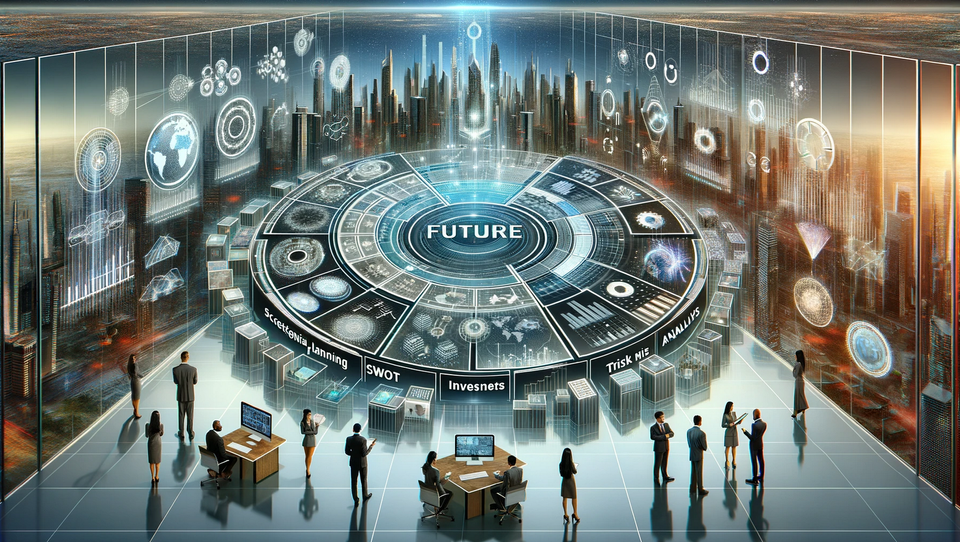 ---
🙏 Thank you for reading and Happy Friday! Hope you are ready for a nice Thanksgiving week! In this edition:
Macroeconomics: What's growing and what's shrinking in the economy. AI funding is down, Cars, soft drinks & snacks are losing their grip on Americans.
Emerging Tech: Advertising comes to Web3. Crypto is hiring (even as Big Tech is still doing layoffs)
Change Leadership Special Feature: Why we need to overcome the bias toward near-term thinking, and set up effective forward thinking in our teams.
For Paid Memberships: 8 powerful tactics for establishing effective forward thinking in your organization.
More resources & insights on the S3T portal:
🛠 40 Best Online Tools & Resources Top trusted online tools that save you time and $$$, as well as best online sources for emerging tech & research, economic insights, shifts, trends, history, culture and nature.
🌍 Global Economic Dashboard 500+ US & Intl real-time economic indicators organized by nation and release dates. Tap or click any indicator for detailed charts.
🪙 Crypto Market Caps Top 100 Crypto Market Prices and Indicators. Colors indicate 24hr price movement, size of boxes indicate Market Cap.
---
📊 Macroeconomics

📈 What's growing
This week Congress passed a stopgap spending bill, resolving the 3rd fiscal standoff this year where the US government barely avoided default on its rapidly ballooning $31 Trillion debt. To understand US national spending see USASpending.gov and the US Treasury's in-depth Guide to the National Debt with excellent charts and explainers.
📉 What's shrinking
Unlike the national debt, a few things are shrinking:
Possible good news: Some inflation relief might be on the way (Haver Analytics). But will the relief be superficial? See S3T Inflation Perspectives - this inflation is different because of what is driving it.
💡
"Since the United States has never defaulted on its obligations, the scope of the negative repercussions related to a default are unknown but would likely have catastrophic repercussions in the United States and in markets across the globe." -
Treasury.gov
---
🥽 Emerging Tech: Crypto Spring?

🛒 Advertising comes to Web3
Swash Ads is rolling out a cookieless GDPR-compliant advertising platform promising better targeting and analytics. The solution is currently serving 13.9M impressions per month.
🌼Crypto Spring?
Now that the FTX trial is over, righteous crypto is ready to get back to work, building a better future based on platforms less susceptible to the kind of centralized intermediary mischief of FTX and the like. There are signs of spring:
Polygon Labs is launching an $85M grant program to attract tech talent to build on its ecosystem. Context: Polygon is one of the leading Ethereum-compatible Layer 2 blockchains competing to attract talent to secure a dominant position. In the 2020-2021 timeframe crypto/web3 hired a significant amount of tech talent, but then shed much of it during the crypto winter of the past 18 months. As noted in previous editions of S3T, Big Tech laid off 240K tech workers in 2023. A possible "crypto spring" may be opening doors of opportunity for this displaced talent.
Investors are eyeing Cosmos's potential to lead the next bull market. Cosmos is one of a number of assets that have seen heavy losses over the past year, but received a boost in Q4 due to recent crypto optimism.
The Chicago Board Options Exchange (CBOE) announced it will launch margined Bitcoin and Ether Futures on Jan 11 2024, making it the first U.S. regulated crypto native exchange and clearinghouse to enable both spot and leveraged derivatives trading on a single platform,
Assuming this actually is the start of a new bull market...
David Hoffman of Bankless shares what makes this bull market different from the 3 crypto bull markets we've had already (2013, 2017, 2021): the driver is external (interest from traditional finance in crypto spot markets) rather than internal.
---
🧭 Change Leadership Notes: How to overcome the bias toward short-term thinking and build a culture of effective forward-thinking
"We are all engineering our own futures and the future of others, whether we realize it or not"
Have you ever heard or thought statements like, "3 to 5 years! That's too far off, who knows what's gonna happen??? We can't plan that far ahead!"
Here are three of the most costly misperceptions we have about future planning.
🚫 Misperception #1. That we have no power over the future.
The reality is our actions and decisions are shaping the future every day. The future profitability of our company, the future health of our customers, the net promoter scores of our future products - all of these are being decided by today's actions and decisions.
🚫 Misperception #2. That we have no knowledge of the future.
3 to 5 years from now there are some things you can be quite certain about:
The new platforms and system migrations that you are implementing now will still be running five years from now and your customers will be using them for better or for worse.
The same can be said about those systems that you keep intending to retire, and you have not. They will most likely also still be running 3 to 5 years from now (and yes, they'll be impacting your financial health and customers). This is the safest bet until you begin creating a culture that systematically questions, culls, and retires things in pursuit of focus.
3 to 5 years from now you will not be able to pivot any more than you are able to pivot today unless you intentionally invest in transforming your organization into a pivot-capable organization. Perfect example: execs are abuzz about what they're doing to do with GenAI. The reality for 86% of them: They're not ready do anything with GenAI. This was determined two or more years ago when they decided not to invest in building an ability to pivot into unforeseen opportunities like GenAI. The only decision open to them now is, do they want to be a pivot-capable company two years from now.
🚫 Misperception #3. Thinking about the future is less valuable than thinking about the near term.
Sometimes we inadvertently shut down people and improvement opportunities because we deem certain things irrelevant - because in the moment they don't seem as important as today's urgencies. Acting as if near-term urgencies are the only things that matter is a form of proximity bias, and it doesn't serve as well.
Corporate cultures can sometimes penalize or discredit people for thinking ahead.
"So and so is always like five years in the future."
Ok sure, maybe they need coaching. But maybe the real issue is that you're running five years behind in the way you operate, design products and treat your customers! Maybe you need to reframe: Maybe this person isn't out of touch. They're actually more in touch. They're not thinking five years in the future; they're just realizing what it's supposed to be today and the fact that we're missing our target.
3 Crucial recognitions about future planning
There are three crucial recognitions that will help you and your team better understand why we need to think about the future and plan more effectively:
Thinking ahead is not dreaming. It is not using your imagination, or crystal-balling some fake future that will probably never happen.
Thinking ahead is taking more seriously the responsibility to understand the unfolding implications of today's decisions and actions. You have a responsibility to understand how our decisions and actions this month, this quarter, and this year, will impact our customers for years to come.
The way we do our jobs today directly extends or limits the benefits that our customers are able to experience tomorrow and far into the future.
8 powerful tactics for enabling a culture of effective forward thinking
The realities of the 21st-century demand that leaders work to build a corporate culture of effective forward thinking: one that is comfortable with future-oriented proactive thinking and recognizes the long-term impact of today's decisions and actions. Here are 8 strategies for fostering effective thinking and planning for the future:
Regular Future-Focused Work Sessions: Schedule regular meetings dedicated solely to discussing long-term goals, trends, and forecasts. Encourage open dialogue about how your industry or competitor landscape could evolve, how emerging technologies might reshape your business, or how economics might impact customer behaviors.
Scenario Planning Workshops: Engage teams in specific scenario planning exercises. These workshops should explore different future scenarios, including best-case, worst-case, and most-likely outcomes. This practice helps teams understand the implications of their decisions and prepares them for a range of possibilities.
Set and Use Long-Term Metrics: Make sure your key performance metrics include long-term goals and outcomes not just short-term ones. By evaluating success not just on immediate results but also on progress toward future objectives, you signal the importance of the long term, and encourage employees learn to think beyond the short-term.
Encourage Continuous Lifelong Learning: Promote a culture where continuous learning is valued. Provide resources and opportunities for employees to learn about emerging trends, technologies, and methodologies. This keeps the team informed about potential future developments and how they might impact or be leveraged by the company.
Innovative Mindset Workshops: Conduct workshops or training sessions that focus on developing an innovative mindset. This includes embracing change, thinking creatively, and understanding the importance of adaptation and evolution in business.
Reward Innovative Thinking: Recognize and reward employees who bring forward ideas or projects that may have long-term benefits, even if the immediate impact is not as evident. This can encourage a forward-thinking approach and risk-taking for future gains.
Two-Way Communication Platforms: Establish platforms or events where employees at all levels can share their insights and ideas about the future. This could be through regular town hall meetings, suggestion boxes, or digital forums.
Leadership Accessibility and Role Modeling: Leaders should be accessible and actively participate in discussions about the future. By demonstrating their own commitment to long-term thinking and being open to feedback and ideas from all levels of the organization, leaders can set a powerful example.
By implementing these strategies, leaders can cultivate a corporate culture that not only acknowledges the importance of the future but helps employees at all levels realize their ability to actively engage in shaping the future. This approach can lead to a more resilient, forward-thinking, and ultimately successful organization.